Listen to Don Angelica´s solo from
1957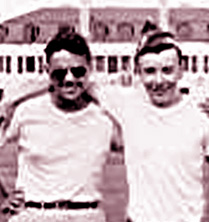 WHEN YOU HAVE WORN THE MAROON AND GOLD A PART OF YOU IS NEVER ABLE TO 
LET GO. YOU ARE NEVER AN EX-CADET, OR A FORMER CADET, OR A ONCE-WAS 
CADET...YOU ARE FOREVERMORE, WHATEVER YOUR AGE, WHATEVER YEARS YOU 
MARCHED... A CADET; THIS IS THE ENDURING LEGACY OF HOLY NAME.
---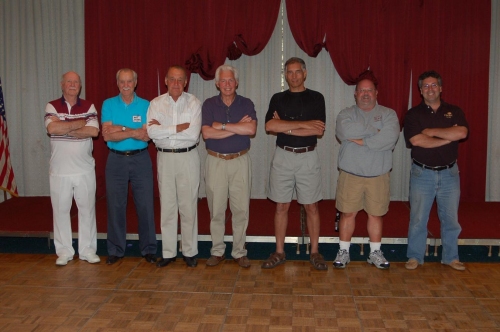 credit Rich McGarry
Caption: Cadet Drum Majors in attendance; L to R: Al Mura, Art Mura, Hugh Mahon, 
Fabian Izsa, Pat Vazquez, Ron Frech, John Hannigan. 
See Drum Major's photos in the HISTORY section.
---
On June 7th, at the VFW Hall in Garfield, New Jersey, Cadets of all 
generations gathered once again, as we do each month, to celebrate our 
heritage, our history, and our Cadet identity. There were men and women 
present from the 30s, 40s, 50s, 60s, 70s, and 80s. We were not there to 
celebrate a special event, or to present any awards, or to be entertained. 
We were there purely and simply because we wanted to be there. We wanted to 
see old friends, and meet Cadets of other eras. We were there to exchange 
stories, relive important moments in our lives, laugh a little, cry a little; 
but most of all, we gathered in thanks for the joy of our Cadet experience.
---
What was special about this fifth monthly gathering-of-the-maroon was the 
attendance by so many Cadets that were experiencing being a Cadet again 
for the first time in many, many years. Many came with reservations that 
the years had erased the feelings they had for our corps, or diminished 
the friendships they once cherished. They wondered if they could possibly 
have anything in common, after so many years, with the young Cadets they 
faintly remembered from their years in uniform. Others had observed the 
changes that have occurred in the drum corps activity, with strong 
misgivings; and they wondered if they could separate their feelings of 
love for the corps from their disapproval of the road the activity has 
chosen to follow
---
But they came! And, without exception, they were glad they did!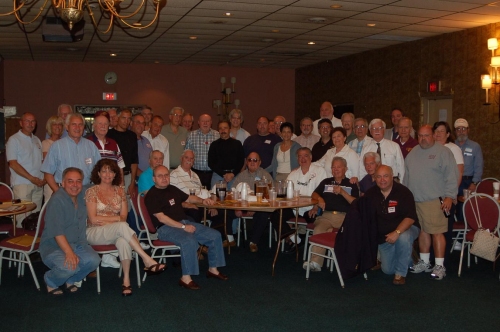 credit to Scotty McGarry
---

We had over fifty Cadets and friends in attendance, though as usual at least 
five or six neglected to sign the registration form. No big deal. Discipline 
is not a part of our present Cadet experience. No significant news was made, 
except perhaps at the individual level. These gatherings-of-the-maroon are 
not designed to make news. They are designed to bring us together again, and 
that's exactly what they've accomplished. Suddenly, for a few hours, we are 
no longer Joe Smith, or Mr. Joe Smith, or Dr. Joe Smith; we are Joe, and Bill, 
and Andy, and Lois, and Hugh, and Al, and Jim; and best of all...
we are all Cadets. In attendance:
---
Cadet Tony Tantillo 43-52       Cadet Joe Smeyers 72-80
Cadet Caren Frech 77-79         Cadet Gene Clayton 46-56
Cadet Joe Wegrzniak 43-50       Cadet Art Mura 37-49
Cadet Joe Triola 62-66          Cadet Vincent Giardino 53-54
Cadet Eric Santo 77-82          Cadet Mike Davis 70-72
Cadet Joe Frech 68-75           Cadet Hugh Mahon 60-61
Cadet Greg Pych 64-72           Cadet George DeOld 64-70
Cadet Pat Vazquez 61-67         Cadet Jim D'Amico 50-54
Cadet Paul Wall 64-71           Cadet George Lea 81-82
Cadet Dave Shaw 50-58           Marie DiDomenico staff for many years
Cadet Doug Tenis 58-62          Cadet Bob Bella Rosa 49-52
Cadet John Avella 57-61         Cadet Phil Kowalski 51-53
Cadet Lenny Smegski 43-46       Cadet Ernie Rosolen 49-53
Cadet Fabian Izsa 58-66         Cadet Al Mura 34-42
Cadet Ken Shedosky 57-61        Cadet Carl Samara 60-65
Cadet Rich McGarry 58-66        Cadet Beth (Linkletter) McGarril 73-75
Cadet John Gangale 1957         Cadet Cindi (Carozza) DeVivo 69-73
Cadet Lois (Witte) Snure 69-72  Cadet Tom Adamo 48-61
Cadet Jerry Chirichella 65-71   Cadet Joe Bonin 43-50
Cadet Rich Jezercak 50-59       Cadet Herb Bonin 48-54
Cadet Walt Serafin 48-58        Cadet George King 54-61
Cadet Tommy Sands 56-61         Gene Marotta longtime friend of the Cadets

If you are not on this list and you were there, I sincerely apologize.

---
As is our tradition at these gatherings, all the above listed Cadets and 
 friends  joined together as a  single group at 8:30 PM EST to join with 
 other Cadets around the Country, and in Canada, to sing  our corps hymn, 
 OH Holy Name. This evening we dedicated our musical reaffirmation of Cadet 
 loyalty to the 2007 Cadets. We were informed by Christen Juel 00-03, a 
 staff member with The  Cadets, that all the new Cadets had just been 
 taught our corps song. Now they too join their  voices with ours in 
 that most beloved of all Cadet traditions.
---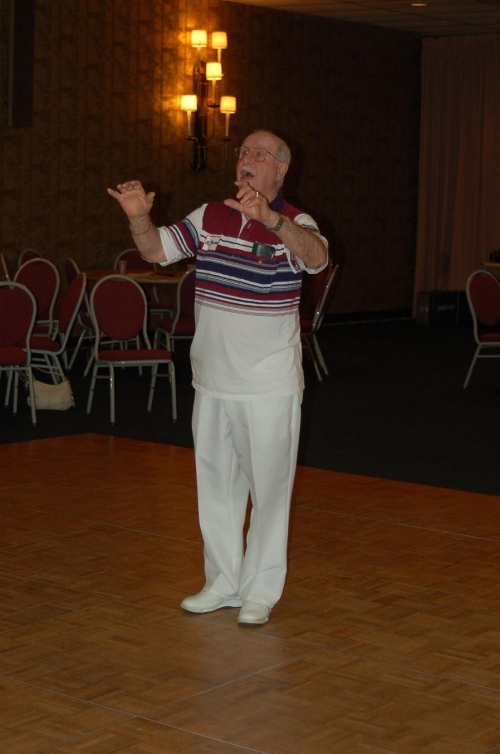 Al Mura, the Drum Major of the Cadets when we won our first National 
Championship in 1940, leads the group in the singing of Oh Holy Name.
Credit photo to Rich McGarry

Since this was the last Garfield gathering-of-the-maroon until October 4th, 
it seems appropriate  to list all Cadets that we have seen in the past 
five months; alphabetical by last name:

Avella, John 57-61
Adamo, Tom 48-61
Bartello, Tony 48-58
Bella Rosa, Bob 49-52
Bienski, Walt 57-58
Bonin, Herb 48-54
Bonin, Joe 43-50
Bullis, George 75-79
Cinzio, Greg 67-77
Clayton, Gene 46-56
D'Amico, Jim 50-54
D'Amico, Sal 48-51
D'Arrigo, Vince 41-51
DeOld, George 64-70
DeRosa, Dan 67-73
DeRosa, Fannie (spouse)
DeVivo (Carozza), Cindi
DiDomenico, Marie staff
Dolan, Kelley 1980
Dolan, Tim 1978
Evans, Lynne 1969
Evans, Rich 68-72
Felice, Nick 41-44
Frech (Blundetto), Caren 77-79
Frech, Joe 68-75
Frech, Ron 69-77
Frenzel, Ed Director
Gangale, John 1957
Gearhart (Estelle), Margee
Giardino, Vince 53-54
Gow, Chris 03-05
Haines, Matt 01-04
Hannigan, John 74-79
Izsa, Fabian 58-63
Jaskot, Vic 48-60
Juel, Christen 00-03
Kardash, Bill 52-61
King, George 54-61
Konyak, Rich 53-58
Koster, Ray 60-65
Kowalski, Phil 51-53
Lea, George 81-82
Mahon, Hugh 60-61
Marotta, Gene   friend of the Cadets
McCullum, Bill 43-51
Mura, Al 34-42
Mura, Art 37-49
Mura, Dennis 57-63
Murray, Jim 73-76
Oliveri, Joe 63-72
Oliveri, Paul 52-60
Panessa, Dan 63-68
Pettigano, Joe 48-52
Polzo, Don 69-74
Pratschler, Roger 55-62
Pych, Greg 64-72
Rice, Dave 69-70
Ripke (Kowalczuk), Debi 72-76
Samara, Carl 60-65
Sands, Bob 57-62
Sands, Tommy 56-61
Santo, Eric 77-82
Scarpa, Ray 47-52
Scillia, Paul 54-56
Serafin, Walt 48-58
Shaw, David 50-58
Shedosky, Ken 57-61
Shmegski, Larry 43-46
Smeyers, Joe 72-80
Snure (Witte), Lois 69-72
Swiderski, Andy 55-58
Sydoryk, Charlie 65-70
Tantillo, Tony 42-53
Taormina, Walt 43-52
Tenis, Doug 58-62
Urspruch, Bob (Abby) 75-79
Vaccaro, Tony  friend of the Cadets
Vazquez, Pat 61-67
Wall, Paul 64-71
Wegrzyniak, Joe 43-50
Westdyk, Bill 49-54

Plus others that neglected to sign-in, or whose name could not be read on 
the sign-in sheets; but Cadets just as important as those listed above. 
We also apologize for any misspellings of names. Some of your signatures 
are pretty hard to decipher.
---
COMING EVENTS:

Saturday, June 30th - Cadet Alumni reception and reunion at Giants´ Stadium. 
This event will replace our July gathering-of-the-maroon in Garfield. Deadline 
for registration: June 15th. Contact Eric Santo 77-82 (eric289@aol.com) IMMEDIATELY 
if you wish to attend this event. YOU MUST BE REGISTERED PRIOR TO JUNE 15 
(stadium security requirement). SEE YOU THERE!

Saturday, July 7th - Cadets´ appearance at DCI East in Allentown, to be followed by 
alumni hosting an ice cream orgy for the Cadets after the show (arrangements pending). 
SEE YOU THERE!

August - no alumni events currently scheduled.

September 12-13-14 - The Once-in-a-Lifetime Cadet Alumni Reunion in Atlantic City to 
honor the 1957 Cadets, and commemorate the last American Legion National Championship 
won by the Cadets under the Holy Name banner. Details on these three days of magic are 
attached to these news announcements. 
SEE YOU THERE!

October 4 - Gathering-of-the-Maroon, VFW Hall, 340 Outwater Lane, Garfield, NJ, 7:00 PM. 
SEE YOU THERE!
---

ATLANTIC CITY, SEPTEMBER 12-13-14: WE CALL UPON ALL CADETS TO BE PRESENT TO 
COMMEMORATE ONE OF THE GREAT CHAMPIONSHIPS IN CADET HISTORY. 

THERE WILL NEVER BE ANOTHER EVENT LIKE THIS ONE!

THE 50TH ANNIVERSARY COMMEMORATION OF THE HOLY NAME CADETS AMERICAN LEGION 
NATIONAL CHAMPIONSHIP VICTORY IN ATLANTIC CITY, 1957. 

THE MAGIC CHAMPIONSHIP.

ALL Cadets, Cadet families, Cadet friends and well-wishers are called to 
assemble in Atlantic City, September 12-13-14, 2007, for a very special 
GREAT-GATHERING-OF-THE-MAROON to honor the 1957 Holy Name Cadets. Three days 
of fun, memories, and entertainment are going to rock the boardwalk at 
Atlantic City...the same boardwalk that the 1957 Cadets marched down behind our 
championship flag fifty years ago.

This three day extravaganza will include an early evening  registration/cocktail 
party at the Trump Marina Hotel on Wednesday, Sept. 12, beginning at 6:30 PM. 
This event will be very informal, and will be our first opportunity to greet Old 
friends and maybe even make some new ones. Refreshments will be served, and a 
cash bar will be available.

Thursday, Sept. 13, at 8:00 P.M. will be the grand banquet, held on the floor 
of Boardwalk Hall, in the same location where the rafters rocked and history was 
made 50 years ago. An open-bar cocktail party will precede the banquet, 
from 6:30 - 8:00 PM, on the Musician´s Balcony level of Boardwalk Hall.  
The highlight, of course, will be Cadets, Cadets, and more Cadets; reliving a night 
of memories that will never be equaled.

Our final event will be on Friday, Sept. 14, where you are invited to 
register for a boardwalk-food luncheon with cash bar on the Steel Pier.

The total cost for this 3-day event-of-a-lifetime will be $100 per person. 
This will cover the events on Sept. 12-13. The Steel Pier luncheon on 
Sept. 14th (optional) is not included.

Hotel accommodations have been secured at a special rate at the Trump Marina Hotel. 
The rates for Wednesday and Thursday will be $85 per night (plus applicable taxes). 
For those wishing to stay over on Friday as well, the rate will be $129 
(plus applicable taxes). 
Reservations may be made directly through the Trump Marina Reservations 
Desk by calling 1-800-777-8477, Option #3. When making your reservation you must give 
this special code for this event, "FHOLY7 Holy Name Cadets Reunion," in order to receive 
these special rates. We suggest that you reserve immediately. A significant portion 
of our block of rooms have already been reserved.

---

In order to secure your participation we need to receive your full payment of $100 
per person no later than August 15. Please make out your checks to:
                        "Holy Name Cadets Reunion":
       Mail them to:      Bill Kardash
                          111 Annapolis St.
                          Annapolis, Md. 21401

Please include the following information with your check:


name:________________________________________

name(s) of spouse or other guests:_________________________________

________________________________________________________________________

street address:________________________________________________________

city/state/zip:__________________________________________________________

telephone #:____________________________________________________________

e-mail address:_________________________________________________________

years marched (if applicable)______________________________________

I (we) will attend the registration/cocktail party on Wed., 9/12 Y___ N___?___

I (we) will attend the Steel Pier luncheon on Fri., 9/14 (optional) Y___ N___ ?___

I (we) are interested in participating in a golf outing (arrangements pending) to be 
held on Thursday morning, 9/13 Y___ N___ ?___.  
If interested please contact Tom Adamo (tja116@aol.com) to register.

Let´s all gather once again to raise our voices and our glasses to the most famous 
drum corps in the world. For Holy Name shall always be...

John Avella, Tony Bartello, Bill Kardash: co-chairmen

---
We have been unable to locate the following 1957-59 Cadets. 
If you have any information whatsoever that might be helpful in finding these 
MIA Cadets please contact Ken Shedosky (kshedosky76@earthlink.net) ASAP.


Al DeRosa (horn instructor), Ed Jediny (CG), Eugene Klaus (CG), John Majka (CG), 
Pat Niven (CG), Basil Nosal (CG), Mike Nosal (CG), Vince Randaisi (CG), 
Carmine Reddiconto (CG), Steve Sovich (CG), Eugene Thompson (CG), 
John (Smiley) Tambi (CG), Robert Walley (CG), Lou Bonanno (DRM), 
Bill Conklin (DRM), John Ely (DRM), John (Butch) Fecko (DRM), Fred Gemski (DRM), 
Bob Hickey (DRM), Tommy Maat (DRM), Rich Murray (DRM), Bill Ridings (DRM), 
Dennis Santo (DRM), Jim Barilla (HRN), Paul Blazowski (HRN), Mike Blostein (HRN), 
George Brierty (HRN), Ray Carullo (HRN), Mike Cisar (HRN), Bill Fecko (HRN), 
Glenn Francini (HRN), John Furman (HRN), John Ganguzza (HRN), George Hertzchuch (HRN), 
Jim Kennedy (HRN), Rich Kozel (HRN), Bob Lecoque (HRN), Jim Messineo (HRN), 
Henry Mura (HRN), Bob Nelson (HRN), John Niemiec (HRN), Danny Pasqueriello (HRN), 
Ted Puzio (HRN), Danny Raymond (HRN), Joe Raymond (HRN), Lou Silvestri (HRN), 
Bob Snyder (HRN), Joe Sobolewski (HRN), Walter Furca (HRN), Arthur Santucci (HRN), 
Michael Porisch (HRN). 
Thank you for any assistance you can offer.
---

Our 2007 Cadets, led by DM Chris Castille, prepare to begin their season. 
Hawthorne Memorial Day Parade, 2007.
THE BEST WISHES OF ALL CADET ALUMNI ARE EXTENDED TO OUR 2007 CADETS 
AS THEY BEGIN THEIR COMPETITION SEASON IN ANNAPOLIS, MD. THIS FRIDAY, 
JUNE 15TH. GOOD LUCK AND GOOD FORTUNE. BE THE BEST YOU CAN BE, NEVER STOP 
REACHING FOR THE STARS, AND ABOVE ALL ENJOY THE EXPERIENCE. YOU ARE 
BEGINNING A JOURNEY THAT OVER THE YEARS WILL BRING YOU MORE JOY THAN YOU 
CAN POSSIBLY IMAGINE. WE ALL ONCE STOOD WHERE YOU NOW STAND. WE ALL ONCE 
DREAMED THE DREAMS THAT YOU NOW DREAM. WE ALL ONCE WORE THE UNIFORM THAT 
YOU NOW WEAR. WE ARE YOU AND YOU ARE US...WE ARE CADETS FOREVERMORE! 
FOR HOLY NAME SHALL ALWAYS BE...

---
Back to top